JANG TANA THEGCHOG NORBU CHOSLING (TANA MONASTERY)
AMITABHA RETREAT
(Teaching on BARDO and on AMITABHA and its PURELAND based on DEMON PRAYER TEXT by KARMA CHAGMED with Eight (8) Precepts Vow)
Date : 15 to 18 September 2015
Venue :  Meeting Room 1, Level 11,
Chin Swee Cave Temple, Genting Highlands
Click here to download the registration form.
Led by Venerable Tana Tulku Pema Rinpoche, the Abbot of Tana Monastery, South India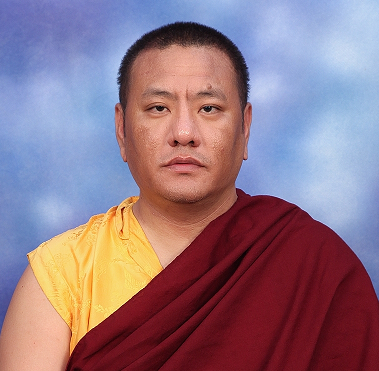 Venerable Tana Tulku Pema Rinpoche is the present Abbot and lineage holder of Tana Monastery India, He was born in Hung Kara Saint lineage, one of the master of Guru Rinpoche. Not long after he was born the late 16th Karmapa, His Holiness Rangjung Rigpe Dorjee recognized him as a Tulku and gave him the name, Karma Ngawang Chokyi Wangchuk Palsangpo. During his earlier years he received most of the empowerments, transmissions and explanation of the Nyingma tradition from the late Dilgo Khentse Rinpoche, late Penor Rinpoche and Abbots in Nyagyur Shedra. Rinpoche has received the Kagyu teachings and empowerments, transmissions from the Four Regents and studied at the Karma Shri Nalanda Buddhist Institute under the guidance of Kagyu Khenpos in Rumtek. Rinpoche resides in Tana Monastery, India and tirelessly travels widely and teaches abroad. Rinpoche underwent his permanent retreat at Sherabling retreat centre 'Tingzin Gephel Ling' under the tutelage of HH Tai Situpa Rinpoche, Venerable Yongey Mingyur Rinpoche and retreat master and returned to the Tana Monastery in March 2014.
A brief write-up on  Amitabha and its Pureland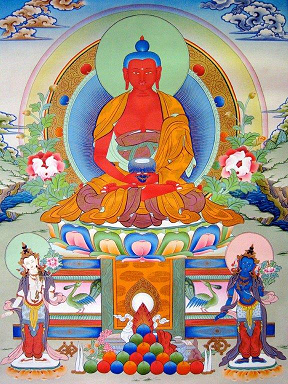 Amitabha Buddha is also known as the Buddha of Boundless Light. There are many purelands. The Pureland of Great Bliss of the Buddha of Boundless Light, Amitabha, is a very unique place. Among all the purelands, the Pureland of Amitabha is the easiest to get to and is therefore very special. This is due to the power of Amitabha Buddha's great powerful prayers and aspiration. In essence the vows, prayers and aspirations made by Amitabha Buddha are as follows:-
"May a Pureland be established that is reachable by ordinary sentient beings of impure karma, beings of karmic evil, who have not abandoned non-virtue".
As opposed to other purelands, the process of accumulating merit and wisdom is very rapid in Amitabha Pureland. Buddha Shakyamuni himself said: "Therefore to pray to be reborn in Dewachen accumulates as much merit as if you were to offer the 7 types of jewels and other precious substances filling the 3,000 fold world systems." The practice of Amitabha Buddha and its Pureland is geared to ordinary people. Anyone can engage in this practice due to the vows of Amitabha Buddha. Even for great sinners, if they practice strongly, it is possible for them to even attain rebirth in Amitabha Pureland. The way to take rebirth in Amitabha Pureland is to formulate a great faith and aspiration concerning the Pureland and have a desire to be born there. By so doing, one can accomplish the transference of one's own consciousness to Amitabha Pureland.
RETREAT SCHEDULE  
| | | |
| --- | --- | --- |
| Date | Time | Activity |
| 15.9.2015  (Tuesday ) | 3.00 pm – 6.00 pm | Empowerment/Initiation  followed by  Teaching |
|  16.9.2015  (Wednesday )to18.9.2015 (Friday ) | 6.00 am – 9.00 am10.00 am – 12.00 noon12 .00 noon2.00 pm – 4.00 pm5.00 pm – 8.00 pm8.00 pm – 10.00 pm | Taking of Eight (8) Precepts Vow  followed by Practice SessionTeaching  Session Lunch BreakPractice SessionTeaching Session (Last Session) Question and answer Session |
| 19.9.2015 (Saturday) | 6.00 am | Breakfast  and  Check out |
Cost of Retreat
The cost per person: RM580 (twin sharing basis)
RM675 (single room basis)
(The cost is inclusive of accommodation, breakfast, lunch and tea, translator's costs and printing of texts and offerings to Main shrine).
Things to bring
1) Mala
2) Foldable table for placing text
3) Personal toiletries, (only toilet paper is provided in the rooms) towels, warm clothing, light sweater, flash light and socks.
4) Flask for hot water available from the hot water dispenser on every floor.
5) Sitting cushions are available and you need not bring any unless you are used to your own. The sitting cushions available are the step up types and made from coconut husk. So, they are a bit firm compared to the foam cushions.
6) Chin Swee Temple is quite cold during early morning and night. Those who are afraid of the cold should bring extra warm clothing. Under normal conditions, the weather is pleasantly cool.
Transport
Please arrange your own transport to Genting Highlands. Suggest car pooling, although there are ample under-ground parking available at Chin Swee Caves Temple.
For more information please contact:-
1) Kathryn Leong @ 012-201 6485 (kathryntana@gmail.com)
2) Leong Poh Chwee @ 012-323 6553 (pohchwee@hotmail.com)
For JB region
3) Rozan Soh (to register JB participants) @ 017-779 2238 (dechen_dolkar@hotmail.com)
For Melaka region
3) Maureen Leong@ 012-602 1686
4) Tammy Teoh @ 012-628 5533 (yeshesogyal5496@gmail.com)
If you wish to participate in the Retreat, please contact the relevant abovenamed to register or you may e-mail your registration form to:
1) Leong Poh Chwee (pohchwee@hotmail.com)
2) Rozan Soh (rozansoh@gmail.com)
3) Tammy Teoh (yeshesogyal5496@gmail.com)
Please complete registration form and indicate who you want for your roommate. Payment is to be made only when registration is accepted. For payment of the Retreat cost, please make your cheque payable to:-
Tana Dharma Society and bank into the following account:-
Bank: Hong Leong Bank
Acc No: 045 0100 3887
Acc Name: Tana Dharma Society
Full payment to be made latest by 20 August 2015.