The Tana Monastery will be doing the lamp lighting and 100 Dieties Jang Chog Puja on Wesak Day (the threefold commemoration of Lord Buddha's birth, attainment of full enlightenment and entering into Mahaparinibbana) – 13thMay, 2014.  It is a great opportunity to do something for the deceased and karmic debtors during this very auspicious period.  If you wish to participate in the 100 Dieties prayers on Wesak day, please remember to submit the name of the deceased or the living donor's name for karmic debtor by informing us  at pohchwee@hotmail.com or kathryntana@gmail.com.  The donation for the puja is any amount.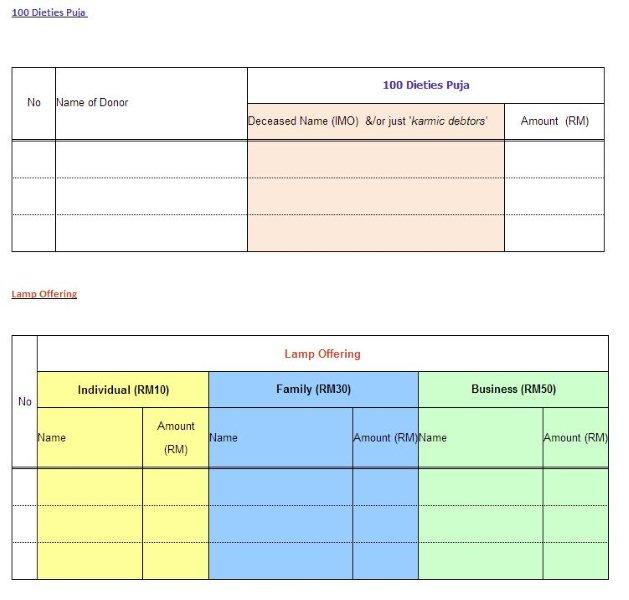 For the lamp lighting: Individual & family is RM30, business: RM50.  Please provide your name or business name as well.  You may remit online or bank cheques into:
          Hong Leong Bank Account: 045 0100 3887
          Beneficiary: Tana Dharma Society 
Once you have made your remittance, please don't forget to inform us the remittance details as well as all the donors names for the Puja.  Closing date to receive all remittances: 2 May 2014.
 
The Origin
The 100 Deities are the attributes and activities of the 5 Buddhas and their female counterparts. They are the manifestations from the pure nature of our minds, and remain within us in the form of 5 faculties, 5 elements and 12 sources of perception and so on. By relying on the practice of the 100 deities or  hearing the mantra, seeing the mandala and picture of the 100 Deities, one may either instantly or gradually realize  the nature of one's own mind is inseparable from the perfect wisdom of the 100 Deities. 
The Puja and Benefits 
During the performance of Jang Chog puja, the 100 Deities are invoked and various types of offerings are made to them. The merits accumulated from these offerings are dedicated to the deceased and karmic debtors to help them in their purification and liberation. The prayer is also an offering of assistance to those in the intermediate or Bardo state to show them the path to liberation and an accumulation  of merit. 
At the end of puja, the paper tablets of the deceased are burnt away. The fire used in the burning symbolizes the wisdom of the 100 Deities; the burning of the tablets symbolizes the cutting of the attachment of the deceased to a "self" which is the cause of their own suffering. Through the prayer and the ritual performed, the consciousness of the deceased are merged and become inseparable from the wisdom of the 100 Deities, thus they are liberated. By practicing the 100 Deities, like all tantric practices, one is able to purify one's own mind's manifestation  and transform ordinary thoughts to extraordinary thoughts that  leads to recognize the true natue of one self and nature of everything.
Yours in the Dharma,
Tana Dharma Society
Tel:   012-215 1886 (Kathryn), fax: 03-5632 3995