Update 25-May-2015
Following the donation collected for the Nepal Earthquake victims, our representative in Nepal managed to distribute food ration to the starving earthquake victims in two very remote places in Sindhupalchowk districtMankha V.D,C, ward and 6 Dumrichour, both these places are up in the mountains and can only be reached by 5 hours drive by road. All their houses have been destroyed, and the victims had requested for food. Pictures above show the distribution. The victims are very happy and grateful for the help.
---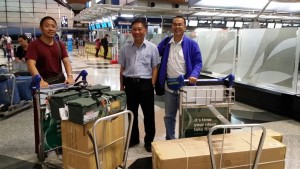 This morning 16/5/2015 @6.30am we sent our volunteer Brother Chow Yoon Khen to the airport destined for Kathmandu with 4 Coleman tents, medical supplies and all the donation we collected over the recent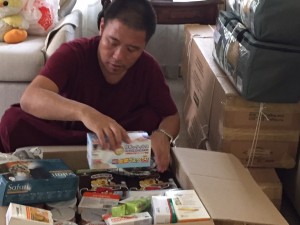 Wesak which was held at TDS centre, to help the Nepali people affected by the earthquake. Our representative in Kathmandu have requested for tents and medical supplies which are badly needed.
May this good deed of yours go a long way to help those who are badly affected. May there be a cessation of suffering and live without fear.
TDS committee