Tag Archives: Tana Centre
Dear Brothers and Sisters in the Dharma,
Tashi Delek.
After many years of trying to set up a Tana Centre in Malaysia, we are finally here. We have rented a shop lot in Subang Jaya and set up the Centre to serve all of you.
We have Lama Karma Sherab as our Resident Lama to guide us. Please take time off to attend the inauguration of the new Tana Centre, details as below.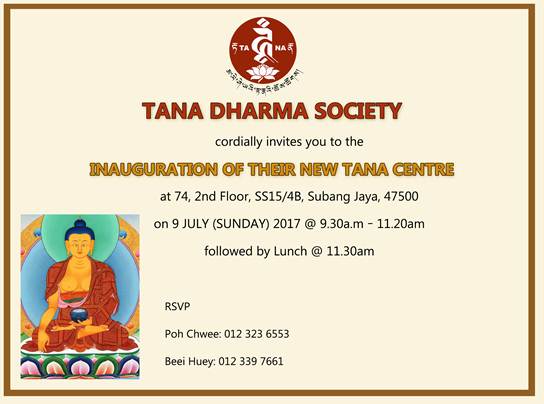 0900 Arrival of guests
0930 Lamp Lighting
0945 Prayers by Chief Reverend
0955 Prayers by Tulku Pema Rinpoche
1010 Speech by Tulku Pema Rinpoche
1025 Speech by Chief Reverend
1040 Speech by TDS President
1055 Thank you speech
1100 Release of Lives
1120 Lunch Dana
In conjunction with this most auspicious day, please join us in offering light and release of life, feel free to give your name & contribution to:
Julie Cheang (tachwee@yahoo.com) mobile 012 608 1628
Beei Huey (mah@wengoon.com.my) mobile 012 339 7661
Light offering (RM30/name/family)
Release of Life (any amount)
The Sanghas will be attending the vegetarian lunch, please feel free to do dana, food or ang pow to the Sanghas to accumulate merits.
With utmost sincere thanks,
Kathryn Leong
Tana Dharma Society